Collective Roots Community Garden
Planting seeds of nourishment and community
in the Bay Area
Located at 1785 Woodland Ave, in East Palo Alto, Collective Roots Community Garden offers a place for community members to gain hands-on experience with organic gardening. Through our workshops, volunteer workdays, and community resources, we equip families with the skills and means to grow their own fresh fruits and vegetables.

Residents of East Palo Alto can enjoy additional free resources, such as a tool lending library and free seeds while qualifying residents can apply for free home garden installation and use of garden plots at the Collective Roots garden. By building a strong, sustainable network of local growers, we're improving access to healthy food while helping preserve the food sovereignty of the many cultures that call East Palo Alto their home!
"When I moved to East Palo Alto in 2020, a friend told me about a community garden nearby. I soon got a plot and started growing some herbs and vegetables. It allowed me to choose and see what goes into growing some of the food I eat, and it has allowed me to connect and share knowledge and interest with fellow gardeners."

Lisa Fabiny, Community Garden Program Specialist at Fresh Approach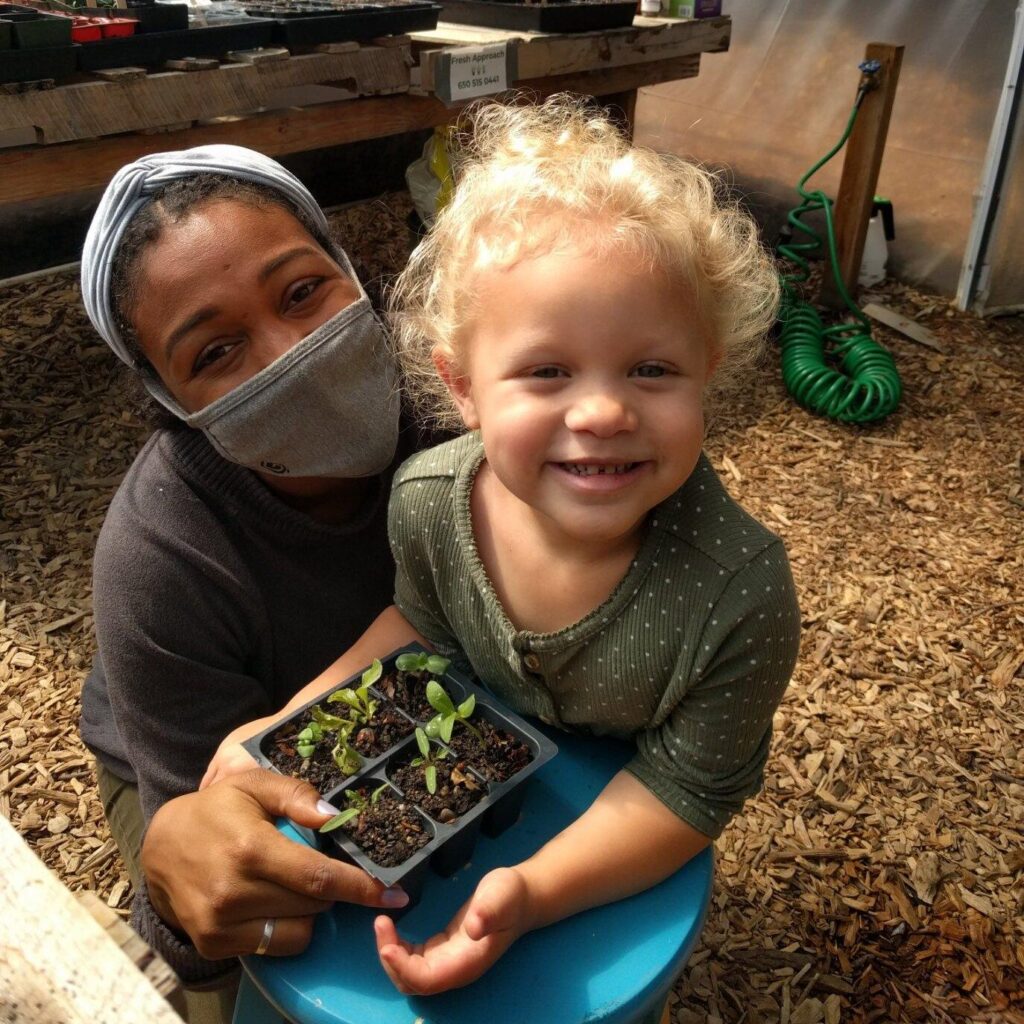 WORKSHOPS
Our monthly workshops provide a chance to learn everything you need to know about urban gardening, from managing pests and basic tree pruning, crop rotation, to growing in contaminated soil.

Through our workshops, we aim to help East Palo Alto families expand their gardening skills and learn to grow sustainable, edible, organic gardens of their own.
Interested in learning more about our workshops?
VOLUNTEER AT THE GARDEN
Join us in the garden to sharpen your planting, pruning, and composting skills while learning from our experienced community members! You're even welcome to take some of the harvest home with you.

All ages are welcome, with adult supervision required for children under 10 years of age.
Interested in volunteering?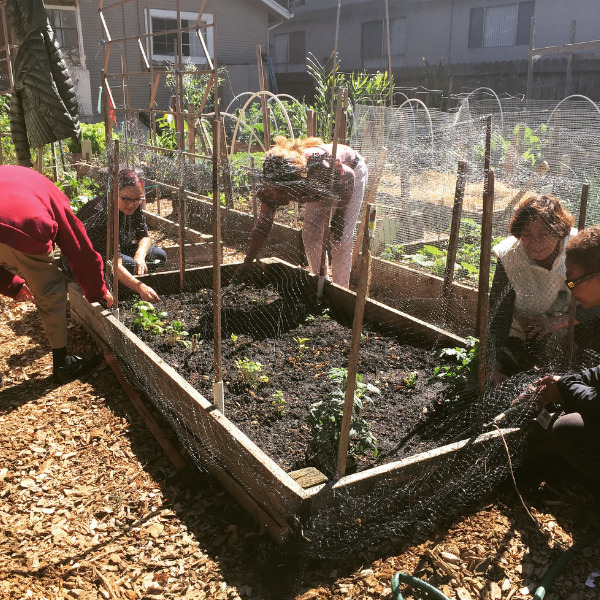 COMMUNITY COMPOST HUB
Our Compost Hub teaches folks how to divert their compostable food-waste into gardening compost.

Community Compost Members can bring their food scraps in compost collection buckets to the garden. You can receive your own compost collection bucket once you complete the online training (English/Spanish).

Compost collection is on Saturday's from 9:00 AM – 1:00 PM at the Collective Roots Community Garden.
Interested in learning more about composting?
RAIN GARDEN INSTALLATIONS
Along with our partner organizations, Climate Resilient Communities (CRC) and Grassroots Ecology, we are working to install rain gardens and water cistern systems for homeowners in East Palo Alto, as a way to mitigate the effects of climate change.

With our Rain Garden Ambassador program, community members are paid to install and maintain rain garden systems; and through our workshops, community members learn the value of rainwater harvesting.

We hope this project will serve as a pilot of community resilience!
Interested in being a host site or volunteering?
Want to receive updates on Collective Roots Community Garden?
"Gardening helps ground me: getting outside, working in the soil, and getting some sun it keeps me balanced. I'm much happier when I garden."

Community Gardening Network Member
resources for residents of east palo alto
We also offer free resources to residents of East Palo Alto to make growing food at home and in community gardens more affordable and accessible, including:
Access to our seed lending library, a free source of locally viable, organic seeds for year-round gardening
Access to our tool lending library, where you can borrow the tools necessary to build and maintain your own garden as well as food preservation equipment for preserving your home harvests
Assistance with becoming a Certified Producer in San Mateo County, opening the opportunity to sell produce at the East Palo Alto Community Farmers' Market
Connections to other network members with opportunities to share knowledge and strengthen community
Seed and produce swaps with other gardeners in the community
VeggieRx Vouchers for attending our workshops for you to purchase fresh fruits & vegetables at participating farmers' markets
Interested in FREE home garden bed installations or community garden plots?
To qualify: you must be a resident of East Palo Alto or Belle Haven, and volunteer at the garden for a minimum of 10 hours within 1 year of the installation!
HISTORY OF COLLECTIVE ROOTS
The ​Collective Roots ​Gardening Program ​began as an independent non-profit organization​ ​​​called Collective Roots, founded in 2000. From ​its inception, Collective Roots ​focused on the growing, sharing, and cooking of nutritious foods ​as a way of ​improv​ing​ the economic independence, health, and community connectedness of East Palo Alto.​
Founders Holly Taylor, Amanda Feld, and Adam Mitchell started Collective Roots by planting school gardens at Belle Haven Elementary. The organization then expanded its reach to focus more on community and backyard gardens. In 2007, Collective Roots founded​ the East Palo Alto Community Farmers' Market​ – the first of it's kind in the city – which continues on today as a program of Fresh Approach. In 2018, Collective Roots merged with Fresh Approach in order to ​deepen their impacts in the community and create ​a more sustainable future​. The community garden at 1785 Woodland Ave is still as vibrant as ever.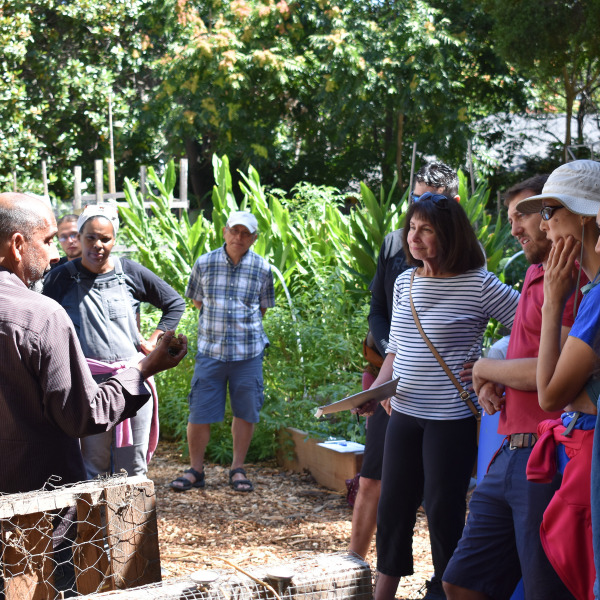 Upcoming Garden Workshops, Compost Drop-Offs, and Workdays