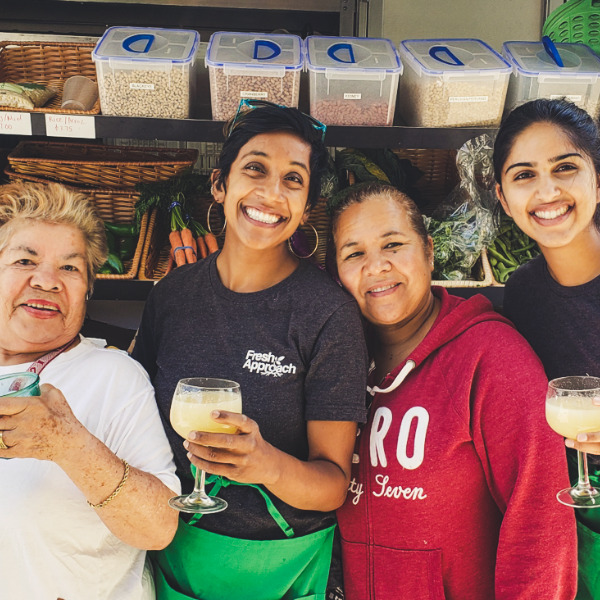 We work passionately to connect farmers & communities through nourishing food.
Guided by the communities we serve, and in collaboration with other nonprofits, government agencies, and health systems, we are building resilient food and farming systems through healthy food access, nutrition education, urban agriculture, and community engagement.
For the past 15 years, our mission has been to create long-term change in local food systems, by connecting California communities with healthy food from California farmers and expanding knowledge about food and nutrition.
OUR VALUES
A Seat at the (Kitchen) Table
We believe healthy food is a human right and that all communities should share in the tools, knowledge, and resources towards achieving food security and food sovereignty. We work to create an equitable food system by directing resources to those who have been historically denied access to healthy, fresh, local and culturally relevant foods, particularly communities of color. We stand with marginalized communities in the face of adversity, and work to nurture grassroots action and influence policy that supports health, wellness, and self-determination.
Inclusive Collaboration
We value inclusion and diversity, recognizing that different backgrounds and experiences lead to more meaningful collaboration and deeper community impacts. The success of our programs depends on mutually beneficial and trusting partnerships with diverse stakeholders, including Bay Area residents, partners, farmers, farmers' markets, and supporters.​ We​ are enthusiastic about community-led innovation, and recognize that through collaboration, we can build a stronger, more resilient community-based food system for all.
People First
W​e care about the health and well-being of Bay Area residents, and we provide quality service and treat every human interaction with compassion and integrity. W​e are sensitive to the lived experiences and cultural identities of the people we meet and the communities where we work. We create a respectful, safe space for collaboration, honesty, personal growth, and transparency within our workplace and in the field.
California Roots
We believe that economically-viable, small farms and accessible community gardens are the foundation of a resilient community-based, local food system. We recognize that growing, cooking and sharing food are acts of empowerment and foster self-reliance. We support farms that produce food using sustainable and ecologically sound growing practices, that value responsible stewardship of natural resources, and that value diversity and fairness in agriculture.
"Serving at the farmers' market was an experience like no other. Witnessing the transformative power of the incentive program brought pure joy to my heart. Each Wednesday, I had the privilege of connecting with both new and familiar customers, and their smiles were genuine reflections of the positive impact the program had on their lives.

And now, as we celebrate 15 years of service, I can't help but feel an overwhelming sense of gratitude: our journey at Fresh Approach has been marked by purpose, compassion, and an unwavering commitment to making the world a better place – one smiling face at a time."

Raffaella Cerruti, Development Director
OUR WORK
Our Food Access team strives to bring locally-grown produce to neighborhoods that lack accessible and affordable nourishing food options.
Our Education and Engagement initiatives cultivate community involvement, empowering families to embrace healthy and sustainable lifestyle changes.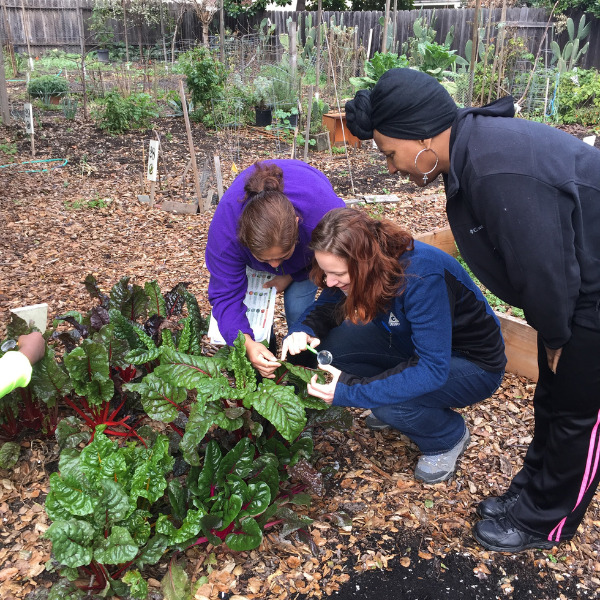 OUR HISTORY
Fresh Approach was founded in 2008 by the Pacific Coast Farmers' Market Association (PCFMA) to help connect communities to the fresh produce available at farmers' markets in their neighborhoods.
2011: Fresh Approach started to offer the VeggieRx program which provides free, hands-on nutrition and cooking classes through a 16-week course—serving residents living in Contra Costa, Alameda, San Francisco, San Mateo, and Santa Clara counties.
2013: Fresh Approach launched the Bay Area's first Mobile Farmers' Market truck, that travels to underserved neighborhoods in Contra Costa, San Mateo and Santa Clara counties.
2018: FA deepened its work in San Mateo County and merged with another non-profit, Collective Roots, that was based in East Palo Alto. The East Palo Alto Community Farmers' Market and Collective Roots Community Garden continue to operate today as core programs of Fresh Approach.
2020: In response to the pandemic, Fresh Approach coordinated dozens of regional farmers and community-based organizations to deliver food boxes to tens of thousands of food-insecure households across the Bay Area.
2022: Fresh Approach started to support the launch of multiple mobile market operations across California as part of an effort to provide training, technical assistance, consulting services, and evaluation for beginning mobile market programs.