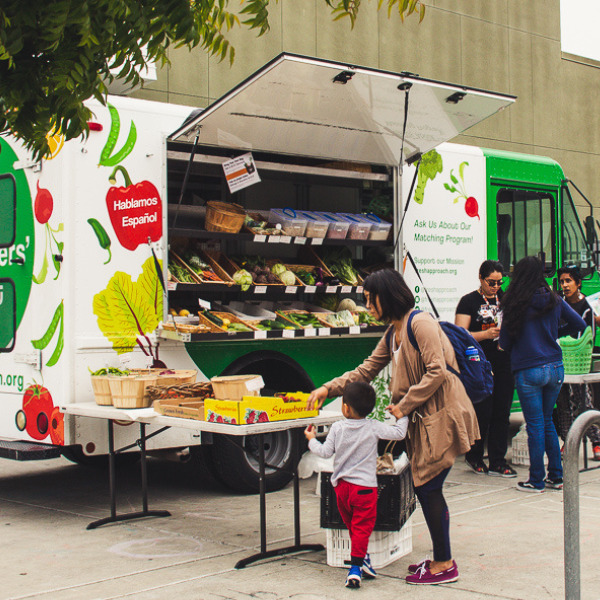 Bringing the nourishing bounty of local farmers to the Bay Area
We believe everyone should have access to locally-sourced and nourishing food, and that the health of our communities and the livelihood of our local farmers should go hand-in-hand.

All of the fresh, seasonal produce from our Mobile Farmers' Markets is affordably priced, and we offer a 50% discount to market shoppers who participate in the CalFresh (SNAP), WIC, SSI/SSDI, Medi-Cal and Unemployment programs!
"Our Mobile Farmers' Markets are a community hub to share resources and recipes, purchase culturally relevant produce, and try something new. The expanded match opens up our Fruit & Veggie Incentive Program to a larger group of people who normally wouldn't qualify for market match at other farmer's markets. Some families have voiced that our Mobile Farmers' Markets are an important part of their schedules and how access to the mobile farmers market gives them the opportunities to healthier food options."

Isabel Medina, South Bay Food Access Program Manager
ROUTE SCHEDULE
Tuesdays, East Bay
11:30 AM – 2:30 PM,
Nick Rodriguez Community Center,
corner of W 2nd St and E St, Antioch
Tuesdays, South Bay
10:00 – 11:30 AM,
Valley Health Center,
500 Tully Rd, San Jose
12:30 – 2:00 PM,
YMCA East Valley Family,
1975 S White Rd, San Jose
Wednesdays, East Bay
9:45 – 11:15 AM,
Richmond Public Library,
Nevin Ave. & Civic Center Plaza, Richmond
11:45 AM– 12:45 PM,
San Pablo Senior Center,
1943 Church Ln, San Pablo
2023 Mobile Farmers' Market Route Breaks
We will NOT be running our Mobile Farmers' Market's during the following dates below:
Jan 1 – Jan 21
Mar 27 – Mar 31
May 30 – June 3
Jul 4 – Jul 8
Sept 5 – Sept 9
Nov 21 – Nov 25
Dec 19 – Dec 30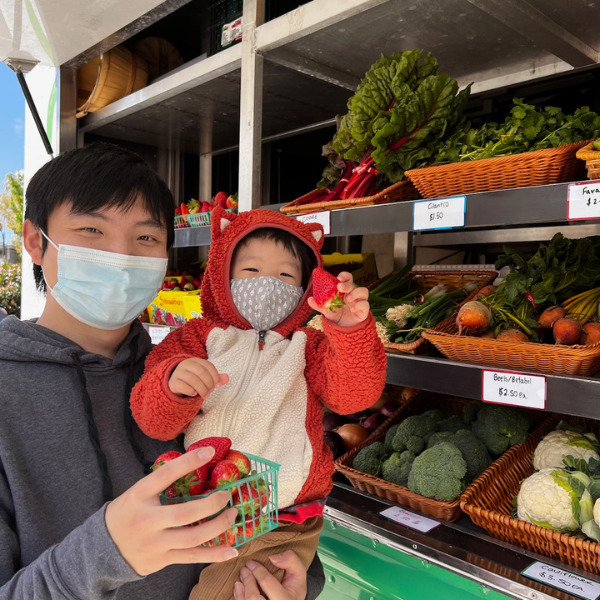 Want to receive updates on our Mobile Farmers' Markets?
"Fresh Approach has been nourishing me as I learn how to navigate a world mostly designed for other people. Having the 50% discount for folks who don't qualify for SNAP, but do qualify for other services, such as Medi-Cal, has been so helpful! Because, like a lot of folks in the Bay Area, experiencing cost of living increases while income doesn't keep up, continues to be a challenge. Finding the right services at the right time, is something Fresh Approach has done in my case. I've been very grateful!"

Nancy, Mobile Farmers' Market shopper
SOURCE MATTERS
Our Mobile Farmers' Market makes it possible for local farms and urban growers to sell in communities that would otherwise lack access to their fresh seasonal produce, while helping small farmers diversify their sales through guaranteed weekly orders for our two trucks. When you shop at any of our mobile farmers' market stops, you're helping support a robust local food system that promotes sustainability, equity, and responsible stewardship in agriculture.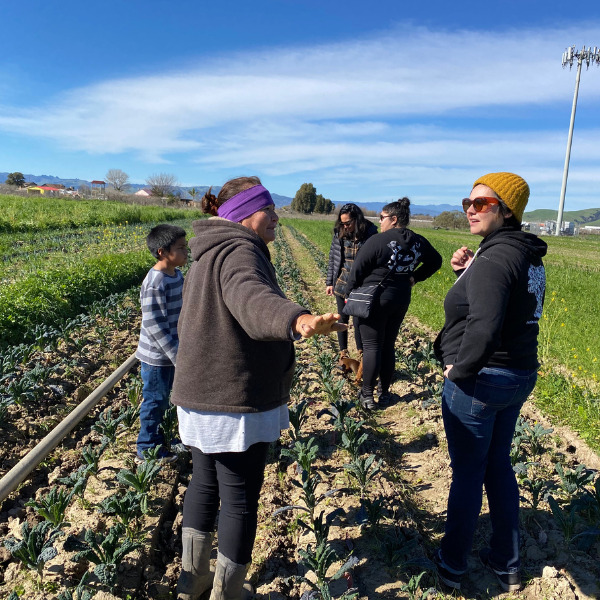 Our focus is on…
Purchasing from local farms within 200 miles of the Bay Area that produce food using sustainable and ecologically sound growing practices, including certified organic
Prioritizing sourcing produce from small-scale, BIPOC, women-owned, and early-stage farmers who are committed to equitable and fair labor practices
Offering affordable produce that accommodates the cultural and economic preferences of our market shoppers and communities
Upcoming Mobile Farmers' Markets